On February 18, 2016, the Schubert Center hosted Michelle Martin, PhD, Augusta Baker Chair of Childhood Literacy at the University of
South Carolina. A Cultural Exchange and the Schubert Center partnered to organize a workshop at Bolton Elementary School CMSD for children's librarians, educators and other practitioners in the community on the importance of diversity in children's literature. Martin, who led the workshop, encouraged practitioners to come up with ways to let children live the books they read as a way to engage kids more. To demonstrate, Martin pushed participants out of their comfort zone through group songs and activities.
Later that afternoon, Martin was welcomed by Dee Perry on Sound of Applause. She discussed her own history with children's literature, specifically Black children's literature, and highlighted the importance of Augusta Baker in her career. Her full interview can be heard here.
Martin gave her keynote address titled "Brown Gold: African American Children's Literature as a Genre of Resistance" to an audience of over 100 people at the CWRU Tinkham Veale University Center. Martin traced the history of the portrayal of Black children in literature, with a focus on how depictions by Black authors challenged previous racist portrayals.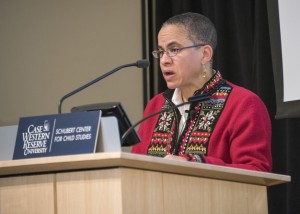 Martin contrasted racist imagery of Black children portrayed by White authors in the late 1800s through the mid 1900s with the work of Harlem Renaissance visionaries Langston Hughes and Arna Bontemps, who published works such as Popo and Fifina: Children of Haiti, depicting capable, intelligent children with hardworking and loving parents. She described how different African American children's texts use strategies of resistance, such as subversion of dominant cultural images, counter storytelling and the Black aesthetic.
Martin also addressed ongoing problems with diversity in the publishing industry. Most publishing executives and reviewers are white, non-disabled, ciswomen. She offered 3 suggestions for how to promote diversity in children's literature: (1) buy books about people of color, (2) raise readers, and (3) advocate for change.

After her talk, Martin was joined by discussants Deborah McHamm, president and CEO of A Cultural Exchange, and Cara Byrne, PhD, recent graduate of CWRU Department of English. McHamm discussed the advocacy work her organization does to promote literacy and multicultural literature in the Cleveland community. Byrne discussed the influence of Martin's work on her own research and the importance of multicultural literature for parents of all races.
To read more about this event, see the Anisfield Wolf Book Awards blog.
Download an issue brief and suggested book list from these events.
View more information about this event.